Canal cruise Middelburg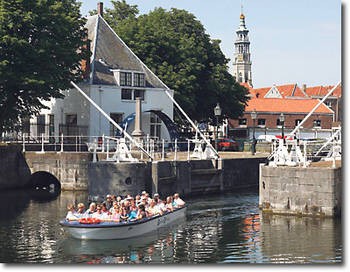 You sail in open boats (54 people) through the old canals of Middelburg with old buildings and warehouses on both sides that are from a rich (VOC) past. Sometimes under very low bridges. The expert during this pleasant 40-minute trip will introduce you to the rich cultural history of Middelburg. Middelburg is a historic city with over 1100 monuments. It is the 5th monument city in the Netherlands and that will not surprise you. Beautiful old streets, alleys and gates, old mansions and warehouses.
Cruise 'Veerse Meer'
From Veere you sail along the most beautiful spots on the Veerse Meer for about 50 minutes.
Cruises 'Oosterschelde'
From Burghsluis you can take various nature tours, you might even come across a seal!
Do you want to book for a period longer than 3 weeks? Contact in that case the camping itself directly by phone or email.